Techniques & Aftercare

Rajmahal Art Silk is a strong, lustrous & versatile thread which works wonderfully well for many forms of needle art.
The thread is well suited to needlework of all types, including stumpwork, crewelwork, miniature embroidery, Brazilian, petit point, cross stitch, goldwork, sadi, shisha, canvaswork, silk ribbon, hardanger, whitework, smocking, lace-making, tassel and fringes, braiding, weaving.
Rajmahal may also be used for machining. (2,000 metre cones available, or wind skein onto bobbin).
Rajmahal Art Silk adds a special finish to even the simplest of stitching. Dyed to be complementary for perfect shading, colours range from very rich and exotic to delicate pastels onto the complex renaissance shades.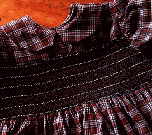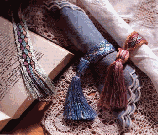 Rajmahal Art Silk makes wonderful tassels - send for you free brochure- how to make simply sensational tassles.
Aftercare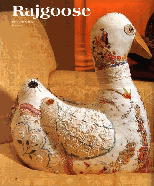 We recommend dry cleaning for the optimum care and continued lustre of your embroidery.
To press your embroidery after completion, place embroidery face down, with the right side on a towel. Press carefully on the wrong side being careful not actually press your stitching. Smooth the surrounding fabric.
Due to changes in anti-pollution laws, certain dye-setting agents can no longer be used. This means it is more difficult to set dyes. If slight "bleeding" occurs, simply continue to rinse with cool water until all residue has gone.
A little bi-carb soda or vinegar helps in final rinse to maintain lustre.